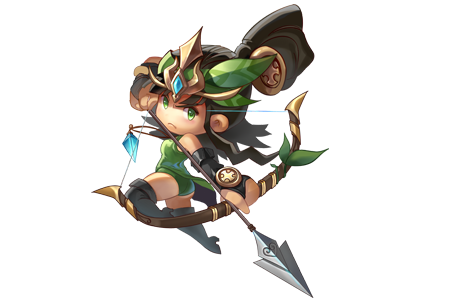 Heavy in attack and light in health. Archers shore up the rear with ranged offense, piercing through unarmored units with their endless arrow showers.
3 points
DPS (Single-target)
Spearman, Mage, Dancer
Cavalry, Catapult
| Skill | Description |
| --- | --- |
| Multishot LV 1 | Shoots 1 more arrow dealing (ATK*20%) DMG when attacking. |
| Mage | Powerful caster that excels at destroying armored troops. |
| Multishot LV 2 | Shoots 2 more arrows dealing (ATK*20%) DMG when attacking. |
| Advance | 10% chance to increase ATK SPD by 500% for 1s when attacking. |
Awakening
Edit
| Awakening | Description |
| --- | --- |
| Phantom Shot | Shoots 5 arrows to damage enemies within 500 range in front for 50% ATK. |
When Fleurine awakens, all Archers also awaken; becoming a spiraling flurry that shoots 5 phantom arrows at enemies. When spinning in the air, Archers are immune to all DMG.
Phantom's talent imbues Archers with additional Fire DMG.
Some Legion Instance bosses and heavily-armoured giant bosses are immune to Archer arrows. It is recommended not to depend on Archers during such battles.
Ad blocker interference detected!
Wikia is a free-to-use site that makes money from advertising. We have a modified experience for viewers using ad blockers

Wikia is not accessible if you've made further modifications. Remove the custom ad blocker rule(s) and the page will load as expected.